Former Top Gear Presenter shoots film at AZ Autos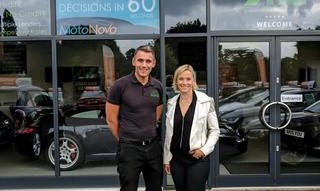 Former Top Gear and Fifth Gear presenter, Vicki Butler-Henderson was on a film shoot this month at AZ Autos (an independent car dealer) in Hitchin. Auto Trader commissioned the video, selecting AZ Autos as a location out of a possible 6,000 independent dealers.
The video was commissioned to show customers what it is like buying a car from a garage like AZ Autos.  As AZ Autos have won awards for their customer service and digital innovation, the makers of the film felt they would be the perfect backdrop. The video will feature on Auto Trader's website which attract 7.8 million users and will also be pushed out on targeted social media marketing such as Facebook, Twitter and YouTube.
"We know from our own research that some potential buyers are put off by the image of places like this," Andy Pringle, Cars Editor at Auto Trader says "but that's not fair. In fact, our research goes on to show that customers who buy a car from an independent dealer like this are very happy with the experience."
The video was released on the 19th of October and can be viewed at: https://youtu.be/HcZ-pNA6HiM