I have bought a Used Car that's gone wrong – what are my rights?
by David Alvarez
---
Introduction
In my opinion, the reason you would buy a car from a reputable dealer is for complete peace of mind. You should be confident that your new steed should get you from A to B. As an RAC dealer, we take great pride in preparing our cars to a high standard and that is why we adhere to the RAC 82-point preparation process religiously. (Click here to view: RAC Preparation Standard.pdf)
Now it doesn't surprise me that some dealers do not prepare their cars properly. In their heads, the more money they spend preparing their cars – the less money they have in their pocket. (This is a bit of a short-term view in my opinion, we have many people who support our business by returning because they trust us). What does surprise me are the number of people who come to our Service and MOT Centre who are faced with big bills on cars they have recently bought from other dealers and are prepared to pay for this out of their own pocket!
Take for instance an Audi A5 we had in recently, the customer had just bought a car for £15,000 which still had a steering wheel wiring issue, non-existent brake pads and discs, a mirror stuck on with parcel tape and tyres that looked like they belonged on a F1 car. His final bill came out at £1,257.45. We advised him to go back to the supplying dealer, but he made the decision to get the work done and pay out of his own pocket. This is not an isolated case, we must see 3 or 4 cars a month that have a similar story. So, I decided to write a blog explaining just what your rights are and how to exercise them.
Disclaimer: Now this blog is made up from my personal knowledge and whilst I endeavoured to back up my obvervations, this is not intended as a legal document and there is a chance it is not 100% accurate.
What is the Dealer's Obligation?
In October 2015 the Sales of Goods Act was replaced with the Consumer's Rights Act f 2015. You can find this Act on the legislation.gov.uk website, however it is quite long. There is a section on 'Product Quality' so I will quickly run through that and what it means to a supplying dealer:
Satisfactory Quality – This basically means that a dealer must check over the car and make sure there are no faults and consumables such as tyres, brakes and fluids must be at a reasonable level or depth.
Fit for purpose – The car must do the job it is designed to do. As one example if you have a Volkswagen Golf quoted with a 50 mpg average fuel consumption and it is not achieving anywhere near these figures then I would argue that this is not fit for purpose.
As described – The vehicle must be as described. If the dealer has agreed t do something that hasn't been done, or if they have lied about features or service history – then this is not as described. However, if you have already come and viewed the car`s condition, features and paperwork and then agreed to accept the vehicle this would then negate this right.
A big part of the dealer adhering to the Consumer's rights Act of 2015 is making sure the car has no "Inherent Faults". An inherent fault is a fault that was present at the time of sale. So it is up to the dealer to check the vehicle and fix any faults that are present and make sure all the consumables are within reasonable levels. At AZ Autos we change any tyre under 3mm and brakes that measure over  50% worn. (Again, there is a link to our full RAC 82-point preparation standard in the introduction).
What to do if you find a fault within 30 days?
If you feel that the vehicle you have purchased has a fault which was there at the time of sale (an inherent fault), you are entitled to a full refund, repair or replacement. It is your right to choose one of these options and the dealer must honour your choice. But once you have accepted an option you are contracted to it, so you cannot change your mind unless the dealer agrees.
If you choose to repair the vehicle, the repair must be of satisfactory quality. If it isn't then you again are entitled to a refund. In either instance if you do want to return the vehicle then you must stop using it immediately in order to be entitled to a full refund.
If the fault wasn't present at the time of sale, then this becomes a warranty issue (See 'Mechanical Car Warranties' section below). However, it is up to the selling dealer to prove the fault was not there at the time of sale, not for you to prove it was.
What to do if you find a fault within first 6 months?
If 30 days has passed but you have found a fault which you believe was present at the time of sale then you are entitled to a repair or replacement. Usually the dealer will carry out a repair as it is more cost effective. Again, the repair must be of satisfactory quality and if it isn't then you will be entitled to a refund. A fair deduction can be made for usage, but there are not set guidelines on this and would ultimately come down to either agreement between you and the dealer or it going to court (see section 'Who do I contact or complain to?' below).
If the fault was not present at the time of sale then again this become a warranty issue (See 'Mechanical Car Warranties' section below).
Mechanical Car Warranties
Mechanical car warranties are designed for faults which happen after the car is sold. If a warranty company decides that the fault was there at the time of sale they will say that it was an inherent fault and will not pay out. A mechanical warranty in no way affects your legal rights. They will also not cover you for 'wear and tear'. This is when an item wears   over time and comes to the end of it's life, they will only cover you for parts which have suddenly failed. Common items that will wear down over time are clutches, brakes, exhausts and suspension.
The quality of a warranty cover varies dramatically   depending on the warranty company. There are plenty of warranty companies that will sell cover for £25, but this  is not worth the paper it is printed on when you come to claim on it. This is used so the dealer can advertise the fact that they are supplying a car with a warranty. They might also try and fob you off your legal right with such warranties, but legally they wouldn't have a leg to stand on.
My advice would be to check the warranty document and check what items are covered and the claim limit value. Also try googling the warranty company name and see what that comes back with. People can be quite vocal about poor warranty companies, so you will soon get an idea. We partner with the RAC for our warranties. These can be used at our RAC Approved Garage or at any VAT registered garage in the UK. They are a great warranty company and live up to the trusted RAC brand. Click on this link to read more about our warranties.
Below I have prepared a flow chart so you can quickly see what your rights are: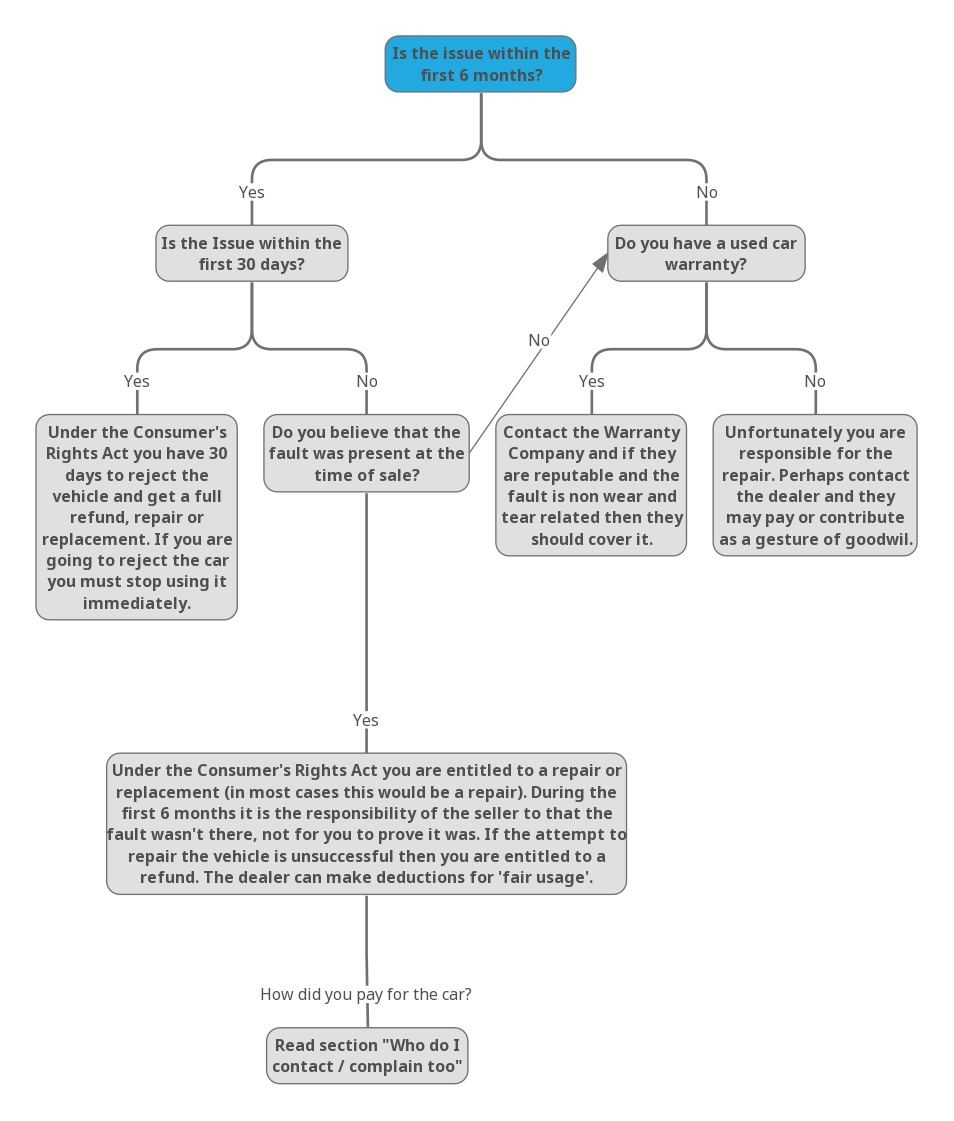 Who Do I contact or Complain to?
This will depend on how you paid for the car.
If you paid for the car with car finance or on a credit card, then you have an extra layer of protection. You should speak to your credit card company or finance company and they will facilitate your legal rights. There will be no need to speak to the dealer at all, it will be down to the credit/finance company to sort it all out for you. If for any reason the finance/credit company are not being cooperative, then you can speak to the Financial Ombudsman. The Ombudsman will charge the finance/credit company a fee for every case brought against them, so threat of this should make them more cooperative. (http://www.financial-ombudsman.org.uk/)
If you paid for the car out of your own savings   or with cash then you would need to speak to the dealer. Again, if they are not being cooperative then there are people to help. My advice would be to contact the Citizens Advice Bureau. They are a government body similar to trading standards designed to protect consumers. They will give advice, help you with letters and legal advice. You can find them on the following website (https://www.citizensadvice.org.uk/).
If the dealer will still not play ball, the citizens advice bureau may advise you to take the matter to court. If the matter is up to £10,000 then this would be small claims court. This service is really quick and easy and all done online. It costs about £80 to set a case up and get the ball rolling. A lot of the time you do not even have to go to court as the dealer will usually give in. If it does go to court then you will need to attend a local magistrate court and a magistrate will make a decision there and then. If you win the dealer will need to pay your court fees also. You can find this service on the following link (https://www.moneyclaim.gov.uk/). If the matter is over £10,000 then you will need to take the matter to County Court. In that case you will need to get a solicitor t work on your behalf.
Conclusion
So, there you have it, a comprehensive blog on your rights. You must bear in mind, at the end of the day, cars are mechanical machines – so they will develop issues from time to time. But it is how the dealer conducts himself when  faced with these issues. Remember it is the dealer's obligation to make sure that the car is of satisfactory quality, fit for purpose and properly described. That is why you pay him a slight premium over buying a car privately or from an auction where you have no comeback what so ever. Maybe the next time you are buying a used car just pause for a second and think.. "If I have a problem, is this a dealer I would be happy coming back to?" If the answer is "No" – walk away. If the answer is "Yes", then you are obviously at AZ Autos.
---
This month's Staff Blog was written by David Alvarez (Company Director). Click here to find out more about David.